Latin American Cultural Festival – 2019.11.15
Exploring Ecuadorian Film – 'Baltazar Ushka, The frozen time' (2008), Directed by Igor and José Antonio Guayasamín. 22 min. Ecuador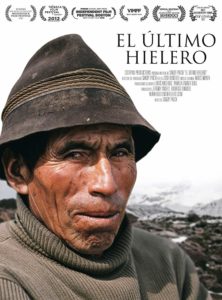 The Rui Cunha Foundation presents this coming Friday, November 15th at 7 pm, the documentary 'Baltazar Ushka, The Frozen Time', directed by Igor and José Antonio Guayasamín (Ecuador, 2008). The event is part of the Latin American Cultural Festival 2019, going from October 11th to November 30th in the territory.
The screening will take place at the Rui Cunha Foundation Auditorium, 1/F, preceded by a welcome coffee and chocolate tasting from Ecuador at 6.30 pm. Attendance is free. Join us!
A documentary where time freezes
'Baltazar Ushka, The Frozen Time' is a short film dating back to 2008 that engages in the experience of the Andean local people through the portrayal of an unforgettable character who is perhaps the last memory of a past occupation.
Chimborazo volcano, the highest in the world in relation to the center of the earth, is over 5000 meters high in the equatorial Andes. For thirty years, Baltazar Ushka has been chopping large chunks of ice in the eternal snows of the mountains, and after a winding and tortuous journey he tries to sell them down in the village. This job used to be performed by the entire community in the past. Today he is the only one left: the last ice man of the Chimborazo's mountain.
The 2008 storyline revisits in 22 minutes the footage captured by Igor and Gustavo Guayasamín – José Antonio's father and uncle – in the late 1970s. The original film 'Los hieleros del Chimborazo' (1980) is one of the all-time classics of Ecuadorian cinematography, along with 'Pasajes de la Cultura Ecuatoriana' (1977), 'Tiag' (1988) and the series 'Nahui, el rostro del Ecuador '(1998), signed by the two brothers. The result is an important anthropological testimony of social movements among the native people of Ecuador.
Igor's son, José Antonio Gauyasamín, studied cinema in Argentina and has worked as a film editor and filmmaker. Today he runs an independent production company, where he creates and directs television programs and educational content.
For more information please visit:
http://www.latinamericanfestival.org/
https://www.facebook.com/mapeal.macau/