Annual Review of Macau Gaming Law 2019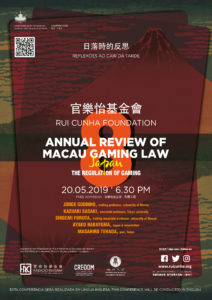 The eighth edition of the Annual Review of Macau Gaming Law will take place at the premises of the Rui Cunha Foundation in Macau, next Monday, May 20, 2019, at 6:30 p.m.
The event is organized in the framework of the International Business Law master program offered by the Faculty of Law of the University of Macau, in English, which includes a discipline of gaming law.
The session has several speakers and a topical theme.
The moderator of the event is Prof. Dr. Jorge Godinho, a visiting professor at the University of Macau, where he teaches gaming law and criminal law. Prof. Godinho published in 2016 by the Rui Cunha Foundation the first volume of his work on gaming law; and published in March 2019 a history of gambling in Macao: The Casinos of Macau. History of the World's Largest Gaming Market, Almedina, Coimbra, 2019. Both volumes were published in Portuguese language.
The main theme of this year's edition has to do with the prospects of integrated resorts offering games of chance in Japan. This is now the most important issue in the regional context. The session will have four Japanese speakers:
Kazuaki Sasaki, Associate Professor at Toyo University in Tokyo;
Shigemi Furuta, Associate Professor at the University of Macau, where she is director of the Asia-Pacific Academy of Economics and Management;
Ayako Nakayama, representative director of the Japan IR Association;
Masahiro Terada, senior manager at Pricewaterhouse Coopers, Tokyo.
After the speeches, a question and answer session will be held. Admission is free.