Making Greater Bay Area a World Tourism Magnet
Rui Cunha Foundation will hold a conference on Monday, April 1st, at 6:30pm by the name "Macau: Making Greater Bay Area a World Tourism Magnet".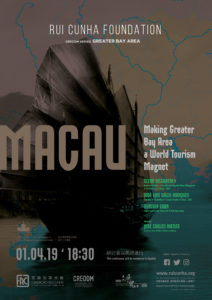 As part of a new series of conferences entitled the CREDDM Series, the Foundation intends to mark the beginning of this huge political project for the Greater Pearl River Delta Region in the coming years.
At a time when Macao is playing a key role in the design of the Greater Bay, it's important to open the debate to the entire community, bringing all the challenges and opportunities in this regard to the table.
For this first session, we have chosen Macau as our central theme as a world capital of tourism and leisure.
To what extent can Macao benefit from this condition?
How can Macao become a distinctive brand throughout the region?
What strategies can and should be concerted between the public and private sectors for the desired economic diversification, a necessary hymen to attract new tourism segments?
What is Macao's international role in this matter?
We will have to discuss this and other issues:
Glenn McCartney, Associate Professor of International Integrated Resort Management, University of Macau; José Luis Sales Marques, President of the European Studies Institute of Macau, Synthia Chan, Council Chairperson, Macau Fair & Trade Association.
To moderate we will have the participation of José Carlos Matias, Director, Macau Platform Journal.
This conference will be held in English and entrance is free.
We are counting on you.
For Macau, More and Better!