Brief introduction on historical development of Japanese Martial Arts
Seminar on "Brief introduction on historical development of Japanese Martial Arts"
The Seminar will be held at 6:30 pm on March 19 (Tuesday) at Rui Cunha Foundation Gallery, Rua Praia Grande, Macau. Free admittance. Interested parties are welcome to visit.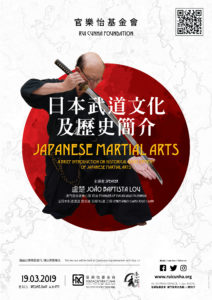 In order to promote multicultural exchanges in Macau, Rui Cunha Foundation will held a seminar in name of "Brief Introduction on historical development of Japanese Martial Arts" in Rui Cunha Foundation Gallery on 19th March, 2019 at 18:30. Joao Baptista Lou Sensei, founder of Macau Iaido Yushinkai will be invited as presenter to navigate on the topic as well as demonstration.
This seminar is based on the growth of interest on Japanese culture with the general public in recent years, topics will include the introduction of Japanese martial arts in history and warfare of the feudal era Japan. The development of martial arts culture and its influence on modern society will bring out for discussion. During which Iaido and Jodo, technique of Japanese swordsmanship and short stuff will be demonstrate.
Participants can deepen their understanding on Japanese martial arts culture and see the benefits of martial arts for improvement of health for urban people in different age groups with proper exercises.
For enquiries, please contact the Department of Social and Cultural Affairs of the Rui Cunha Foundation, telephone: 2892 3288.