Climate Change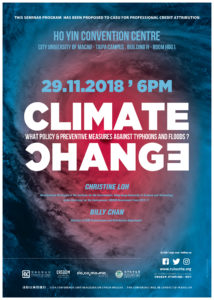 The panel discussion will focus on current climate change concerns on global warming, rise in sea level and how to tackle extreme weather phenomenons currently affecting the South China region and the world over. 
Co-organization between Rui Cunha Foundation, Docomomo. Macau and Macau City University Open Institute.
Invited speakers: CHRISTINE LOH (SBS, JP, OBE, Chevalier de l'Ordre National du Mérite) and BILLY CHAN (Director of Transmission and Distribution Department of CEM).
Quinta-feira, 29 de Novembro de 2018 às 18:00 – 20:00
Building H – Room HG01 – City University of Macau
http://www.cityu.edu.mo/wp-conte…/uploads/…/09/Cityu-Map.jpg