The Importance for Every Child to Grow Up in a Family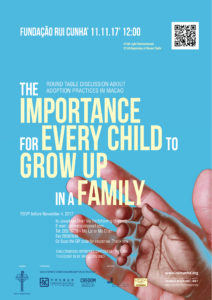 No próximo dia 11 de Novembro, o Centro do Bom Pastor e o "Grupo de Acção para a Adopção" promoverão uma Mesa Redonda subordinada ao tema "A importância de todas as crianças crescerem em família", iniciativa que conta com o apoio da Fundação Rui Cunha.
Pretende-se, com esta Mesa Redonda, refletir sobre as necessidades das crianças e as práticas de adopção em Macau. Entre os oradores estarão profissionais e pais adoptivos de Macau e Hong Kong. O evento decorrerá na Fundação Rui Cunha entre as 13.00H e as 15.00H.