The Present
Cherry Ho Launches New Book "The Present"
(Macao, Aug 26, 2017) – SP Entertainment artiste Cherry Ho launched her new book "The Present" this afternoon at Rui Cunha Foundation Gallery and had an autograph session with her fans. She also shared three "presents" with the audience, including the brand new book, her new song "The Present" and the announcement of her pregnancy.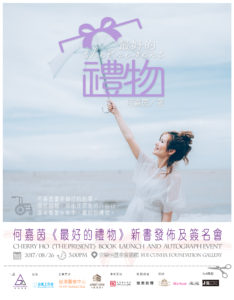 To kick off the event, Cherry brought to the audience her new song "The Present" composed by Josie Ho and produced by Hyper Lo. The song describing the excitement and thankfulness of having a baby not only matches with Cherry's book but also serves as a present dedicated to Cherry by the two musicians. Cherry shared the reason and meaning behind the book and challenges encountered throughout the process. Hyper and her husband Kit Lee also shared their reflections and experiences along with Cherry's recovery from health issue a few years ago.
Officiating guests of today's event were XXX, Dr. Rui Cunha, founder of the Rui Cunha Foundation; Carmen Wong, secretary general of Macau Artistes Association; Hyper Lo, producer of the book and Director of SP Entertainment; and Cherry Ho.
The idea of "The Present" originated from Hyper as he wanted to document Cherry's encouraging story of "Learn to walk again" as it shares positive energy to readers. He also wanted to keep Cherry's best memories throughout her singing career in this book.
Cherry said she is very excited to launch her first book as she encountered a number of challenges during the process and found herself pregnant when the project was in full swing. Luckily she had huge support from her SP families, "After experiencing that big test in life, I realized that happiness is not inevitable. We should cherish and be thankful of what we have. God would not give you a test without reason as each test makes us grow. I have already evolved into Cherry 2.0 who has become stronger and can face the past with smile. Thank God for giving me this test for 596 days and every one who has accompanied me along the way. I hope my story can bring inspiration and positive energy to people in need."
Cherry is born to be a singer and she had formed a singing group Summer Partner with Hyper in earlier years. One of the songs "Fictitious Love" was composed by Hyper and debuted in 2006. The catchy melody made it a big hit of the year and brought her The Best New Voice Award at the local pop music award. While her music career was developing smoothly, Cherry had a medical situation at her backbone in 2012 that made her immobile for two years. She never gave up and bravely took a series of medical treatments. Under the good care of her families and friends; she gradually recovered and re-built her confidence. She has now returned to the performing stage and started a new chapter of her life.
Year of 2016 is very meaningful to Cherry. Since her album "My Dear Cherry" launched in March and her recovery story publicized, it caused substantial media attention and received more than 20 media interview requests to share her story. Cherry was also appointed by the Young Men's Christian Association of Macau (YMCA) as one of the "Macau Outstanding Teenagers" ambassadors. At the end of the year, she fulfilled her dream by holding her first mini concert to commemorate a decade of her singing career.
The retail price of "The Present" is MOP/HKD 100 and will be available in book stores in Hong Kong and Macau. Some of the selling points include:
Macao: Village Macau, Macau Creative, Akia House
Hong Kong:  XXX
Media Enquiry:
Ms. Ho
SP Entertainment
Mobile: +853 6652 4463
Email: info@spentertainment.mo