Paris Agreement: Challenges and International Legal Regimes
IEEM Seminar 2017
Paris Agreement:  Challenges and International Legal Regimes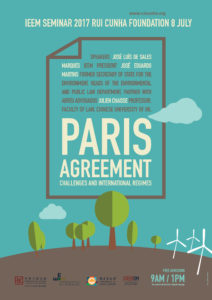 The IEEM Seminar 2017 on Paris Agreement: Challenges and International Legal Regimes focuses on the implication and implementation of Paris Agreement on various aspects of international legal regimes.  During the process and enforcement of the Paris Agreement various challenges and policy options are expected to deal with conflicting issues and the changing scenarios on international political economy.
This seminar is held by the Institute of European Studies of Macau (IEEM) in collaboration with Saint Joseph University (USJ) and Rui Cunha Foundation, and taking place on 8th July, 09:00am at the Rui Cunha Foundation, Av. da Praia Grande, Nº 749 – R/C, Macau.  The two guest speakers that will deliver those topics are: José Eduardo Martins, Former Secretary of State for the Environment, Heads of the Environmental and Public Law Department and Partner with Abreu Advogados, Portugal and Julien Chaisse, Professor, Faculty of Law, Chinese University of Hong Kong.
This seminar is open to public and attendance is free of charge.  Limited seats are available and they will be allocated at first come first serve basis. The speeches will be deliverd in English.
For registration and further details, please visit this link:
(http://www.ieem.org.mo/news/145/IEEM_Seminar_2017_Paris_Agreement_Challenges_&_International_Regimes) or feel free to contact Ms. Beatrice Lam via e-mail (beatrice@ieem.org.mo) or by fax to: 28356155.