Sistema Prisional – Prison on Fire

IV Ciclo de Cinema Cred-DM – Sistema Prisional
Prison on Fire
Quarta-feira, 19 de Julho às 19:30 – 21:30
Casa Garden – 13 Praça de Luís de Camões, Macau
Prison on Fire
Gam yuk fung wan (original title)
Hong Kong – 1987
Sinopse
Dentro de uma prisão chinesa, dois reclusos tornam-se amigos e enfrentam juntos, as dificuldades do dia-a-dia dentro de uma prisão.
Inside a Chinese prison two inmates form a friendship and face the difficulty of life on the inside.
An explosive crime-drama that caused a sensation upon its release. Audiences gasped for breath from the bloodshed and violence, yet were deeply moved by the fraternal bond between the two leading characters. Chow Yun-Fat and Tony Leung are riveting as the inmates who get involved with the intracacies of the prision system.
Realizado por  Ringo Lam, Argumento por Yin Nam; Actores principais: Yun-Fat Chow, Tony Ka Fai Leung, Ka-Kui Ho |
Storyline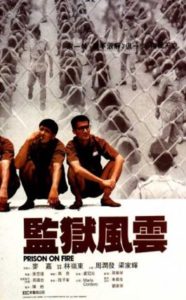 The Doctor is faced with extremely serious problems inside this place, known as Latin America's largest jail: overcrowded cells, decaying facilities, diseases such as TB, leptospirosis, cachexia, and the beginnings of an AIDS epidemic.
The inmates have access to neither medical care, nor legal assistance. Carandiru, with upwards of seven thousand prisoners, is a huge challenge for the newcomer. But after working there for a few months he perceives something that will transform him: the inmates, even in this appalling situation, are not demonic figures. In his daily contacts with the prisoners who see him in his makeshift office, the Doctor witnesses solidarity, organization, and above all, a great will to live.