Sistema Prisional – Carandiru

IV Ciclo de Cinema Cred-DM – Sistema Prisional
Carandiru
Quarta-feira, 12 de Julho às 19:30 – 21:30
Casa Garden – 13 Praça de Luís de Camões, Macau
Carandiru
(2003) Brasil
Sinopse
Carandiru é um filme brasileiro de 2003, realizado pelo argentino naturalizado brasileiro Hector Babenco.
Carandiru, é uma história baseada em factos reais e no livro escrito pelo médico Drauzio Varella (Luiz Carlos Vasconcelos), que se inicia quando ele começa a fazer um trabalho de prevenção ao HIV no maior complexo prisional da América Latina: a Casa de Detenção de São Paulo, o Carandiru, vítima de um dos dias mais negros da história do Brasil, quando a Polícia Militar do Estado de São Paulo, a pretexto de manter a lei e a ordem, fuzilou 111 pessoas.
Ali, o médico contacta com o que, aqui fora, temos até medo de imaginar: violência, superlotação, instalações precárias, falta de assistência médica e jurídica, falta de tudo.
O Carandiru, com os seus mais de sete mil presos, merece a sua fama de inferno na terra. Porém, o nosso personagem percebe que, mesmo a viverem uma situação limite, os presos não representam figuras demoníacas. Muito pelo contrário, ele testemunha solidariedade, organização e, acima de tudo, uma grande disposição de viver.
Não é pouco e é o suficiente para que ele, fascinado, resolva iniciar um trabalho voluntário.
Oncologista famoso, habituado à mais sofisticada tecnologia médica, Dráuzio Varella pratica a medicina como os antigos: com estetoscópio, olhar sensível e muita conversa.
Em novembro de 2015 o filme entrou na lista feita pela Associação Brasileira de Críticos de Cinema (Abraccine) dos 100 melhores filmes brasileiros de todos os tempos
Storyline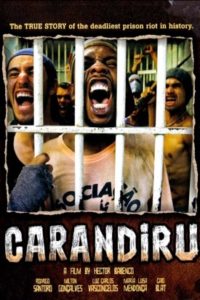 In a cell inside São Paulo's House of Detention, better known as Carandiru, two inmates have a score to settle. The atmosphere is tense. Another inmate, Black Nigger, a kind of "judge" for settling disputes among prisoners, solves the case in time to welcome the Doctor, who has recently arrived–eager to begin an AIDS-prevention program in the penitentiary.
The Doctor is faced with extremely serious problems inside this place, known as Latin America's largest jail: overcrowded cells, decaying facilities, diseases such as TB, leptospirosis, cachexia, and the beginnings of an AIDS epidemic.
The inmates have access to neither medical care, nor legal assistance. Carandiru, with upwards of seven thousand prisoners, is a huge challenge for the newcomer. But after working there for a few months he perceives something that will transform him: the inmates, even in this appalling situation, are not demonic figures. In his daily contacts with the prisoners who see him in his makeshift office, the Doctor witnesses solidarity, organization, and above all, a great will to live.