Literatura moderna chinesa em Macau
É tema da "Conversa sobre o Livro" – Quarta-feira, 29 de Março, 18h30, na Fundação Rui Cunha
"Literatura moderna chinesa em Macau"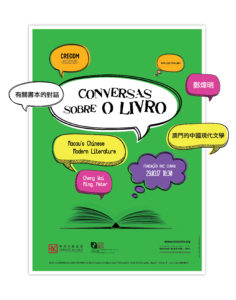 A primeira das "Conversas sobre o Livro" de 2017, promovidas pela Associação Amigos do Livro em Macau, com o apoio da Fundação Rui Cunha, vai realizar-se na próxima quarta-feira, 29 de Março, às 18h30m, na Sede da Fundação.
O tema será Literatura moderna chinesa em Macau com apresentação do Prof. CHENG Wai Ming, Peter.
O orador dissertará sobre o desenvolvimento da literatura chinesa moderna e contemporânea em Macau, com especial enfoque na produção literária, nas revistas literárias e nas principais obras da literatura. Abordará ainda a arte dramática e obras sobre Macau, em especial as redigidas em Cantonês.
A dissertação será em Cantonês, com tradução simultânea (Português).
Notas sobre o Orador
 Cheng Wai Ming, Peter. D.Litt. (n.1958-), que assina "Wei Ming", poeta e académico, é presentemente Senior Researcher e Deputy Director (Research) da Jao Tsung-I Petite Ecole, na Universidade de Hong Kong.
Desempenha ainda os cargos de Professor-Adjunto, PhD e Post-Doctoral Advisor da School of History and Culture da Universidade de Shandong; Professor-Adjunto e PhD Advisor da School of Chinese Classics da Universidade de Heilongjiang; Research Fellow do Center for Historical and Cultural Studies in Eastern Asia and the Pacific Area, na Universidade de Shimane; Professor-Visitante de Sinologia na Universidade de Artois (França); e membro do Conselho Executivo da China Society of *Ci*-Poetry Studies; etc.
A sua área de investigação abarca a História da Antiguidade Chinesa, Metodologia Clássica em Estudos Chineses, Paleografia & Filologia Chinesa (Bambu e Pergaminhos de Seda), *Ci* Poesia, História da Literatura Chinesa e Macaologia.
A sua produção literária prolífica conta 35 monografias académicas, 10 obras literárias e mais de 160 trabalhos de investigação publicados.